This weekend, we had cause to pull out the
flask
and fill it with something delicious. Prippys love their hard liquor.
So after some debate, Bry and I agreed to try something new that was recommended to us by our fabulous booze aficionado at
Schneider's
(a must for Capitol Hillers), and to my delight, we purchased the best branded alcohol I've seen...
Kraken Spiced Rum
.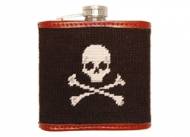 Now, I like my Dark and Stormy's as much as the next girl... but drinking pure rum is something that made me squirm at first. Then I tasted the rich rum and fell in love. It was the perfect way to stay warm on the brisk fall evening. A perfect flask filler.
P.S. - Smathers & Branson makes amazing flasks, like our Jolly Rodger!