My mind has been wondering a wee bit these days... and I've found myself day dreaming about home decor more and more.
At the top of my day dream decor list is wallpaper. I've become obsessed!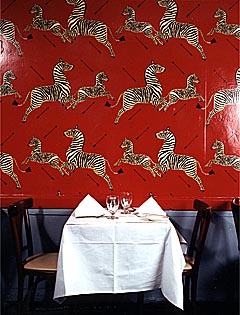 Now, I know I've already waxed poetic about
Osborne & Little's Asuka
wallpaper, which is super lux with its romantic golden hues.
But I also dream about dancing and prancing zebras. Which brings me to my next wallpaper lust,
Scalamandré's
zebras in red. I love it so!
The first time I saw this glorious print was walking past
Gino's
, an old school New York spot not too far from Bloomingdale's. It was love at first site.
Years later, I was delighted to the paper again in the Prippy Classic, "
The Royal Tennenbaums
." Oh.... Margot....